Introduction
** Update – Jarvis ai and Conversion ai are now re-branded as Jasper! Same tool, same team, new name**
You know that social media is important for your business, but you don't have the time to come up with engaging posts every day?
Social media marketing can be time-consuming and a huge drain on resources if you're not careful. Even worse, many marketers aren't even sure how to get started or what they should post about!
We use artificial intelligence to generate posts that are relevant, timely, and engaging for each audience. This means less work for you while still getting great results from social media campaigns.
Our First Top Tip To Writing And Scheduling Social Media Content
You want to be able to write your social media posts and schedule them ahead of time. This means that you need to have the next 3 months' worth of content written out, ready for publishing at any given point in time.
If this is something you've been struggling with or want some help with, then this blog post will show you how it's done.
Free Resources – By Social Media Queen, Rachel Pedersen.
As part of the free training offered to customers by Jasper, social media queen Rachel Pedersen has covered all of the best ways to use Jasper and Metricool together and goes through step by step her amazing process to achieve the best possible results in this video – proven results. Well worth watching …
Get Your Jasper FREE Trial – https://jasper.ai/free-trial?fpr=try-freetrial
Check out Metricool (Free plan available) – http://mtr.cool/URXSIU
More videos are available via the Jasper academy,
For more free resources, join the Facebook group once you've signed up to Jasper – there is loads of advice and online training available to take your skills to the next level.
Best Blogging Tools For 2021 | Newest Tools For SEO, Blogging & Social Media Content Creation.
We are going to use Jasper ai as our blogging software and Metricool as our scheduling platform. With these two tools combined, we can make sure that everything is taken care of on both ends- writing articles and scheduling them accordingly!
They are both easy-to-use packages that have proved to be a game-changer for our client's social media posts! Why not give them a whirl for your next blog post?
Here's the process:
Create headlines about your products/services (Brainstorm ideas and use Jasper to fine-tune).
Use Jasper to expand the copy about the headlines. (using Jasper templates)
Schedule the posts in one go, to be published regularly (using Metricool).
1. First Up
How To Write Your Posts and Generate Engaging blog posts
First off we need to come up with several great ideas for the topics you want to write about. This can be about your business services, products, or even work that you've recently completed and want to brag about (in a professional way!)
Using Jasper (also known as Jarvis and Conversion.ai)
What Can Jasper Do?
If you use Jasper , then you'll know about the superb templates on offer, and how they can help you create high converting copy specific to the different results required.
For example, if you want to take your ideas from above and write some scroll-stopping Facebook titles – the "Facebook Ad Headline" will be your go-to template!
Want to start a discussion with your social media audience and improve your post engagement? (comments, likes and shares etc) – Jasper has your back with the "Engaging Questions" template.
How to use a template with Jasper
This is very simple – all that's required is the initial information about your company, product or service etc, then let Jasper do the rest – the results are astounding!
Here is an example from the "Facebook Headlines" template:
Some great ideas to run with, or to spark a few ideas of your own.

AIDA Framework Template
What is AIDA in marketing?
The AIDA framework, also known as the Attention-Interest-Desire-Action model, is a marketing technique that can be used to help you promote your business.
The idea behind it is to create content that will attract attention and interest from potential customers before moving them towards a desire for your product or service. It's not just about creating good content though – you'll need to know how and when to share it too!
Jasper takes the effort out of this process completely. Simply take the headlines you've come up with in the steps above and pop them into the AIDA section – you'll get superb results.
Example:
Facebook Ads
Writing compelling copy is all the more important when you are boosting posts and paying for Facebook ads. When reaching out to a large audience, and it's costing your business your advertising and marketing budget, let Jasper take the hard work and effort out of the process and create content for you.
Once you've asked Jasper to write your Facebook ads copy, all you need to do is specify the age range, interests and demographics of your target audience and away you go.
Facebook Group
If you run a Facebook group, it's important to let people know about it in posts, so that those who are interested have a way to join up and stay informed.
However, you don't want to be spammy, so this is where Jasper can really help. Simply enter your group name and topic/sub-topic into the relevant sections of the template and you'll see the amazing results! Jasper writes in a perfect Facebook Group tone of voice too.
Instagram Story
For Instagram stories, the key is to create one that stands out and entices others to follow you on your social media platforms. This is especially important if you're a business like an accountant or plumber and don't have exciting product photos for your followers to look at!
A good Instagram story will have a clear and concise message – which is where Jasper excels. Simply input your goal for that story into the relevant section (ie, get more followers) and create an awesome result.
You can even include hashtags (#hashtags) in your stories to help you reach a wider audience!
Twitter Campaigns
Jasper can help you with your tweet campaigns too. If you're looking to leverage multiple accounts, ask Jasper to schedule the right messages at the right times for each one.
Provide a link as well as some social proof and let Jasper handle the rest!
Content Improver
Jasper takes content and rewrites it into something more interesting, creative and engaging. It takes no time at all – once you've asked Jasper to rewrite a piece of content, it will take between 2-5 seconds for the output to appear. You'll be amazed by the results. It's just that easy.
Feature to benefit
Jasper turns product features into benefits for the reader. You'll find that once you've asked Jasper to do this, your content becomes much more engaging for the reader. You can even ask him to highlight a "pain point" within your product and it will come up with an awesome solution!
Try Jasper for FREE
Using ai to write copy may seem too good to be true, and although it does take a little getting used to, it really is a great tool to have in your copywriting toolbelt. Jasper may not be perfect, but it's pretty darn close!
To see the results for yourself, why not take the free trial here:
Jasper summary
Using the amazing ai software, Jasper will take your ideas, write compelling headlines, create attention-grabbing copy, and will direct viewers to your goal. Now to stack them up!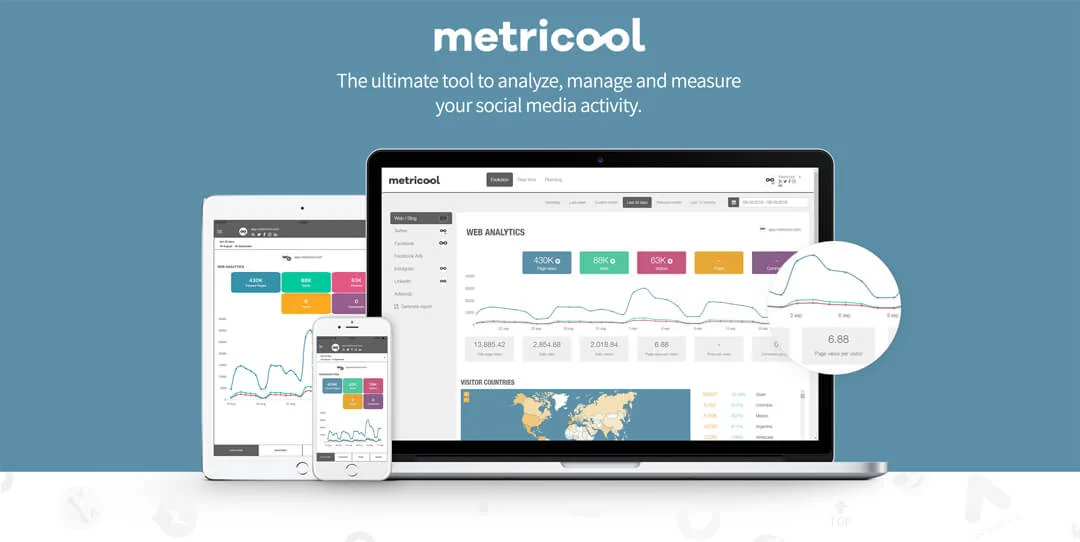 Part 2.
How to schedule your posts
So using the techniques above, you'll have loads of high-quality, engaging posts stacked up ready for posting. If you've ever tried posting to all social media groups manually, you'll know firsthand what a nightmare that is! Not anymore!
While there are a lot of tools out there to help schedule social media posts to a variety of platforms, we've tried and tested all the top performers and one stood out – by a long way too.
Metricool Review – Publishing Content
What is Metricool?
Metricool is a digital tool that helps you get more followers on social media by scheduling your posts in advance, across multiple platforms such as Facebook, Google, Instagram and more. Save time and improve your strategy by planning your social content well in advance.
Metricool is great for managing your social content – you'll be able to upload new posts in bulk with a click of a button before they're automatically posted at the right time of day!
Get The Metrics That Matter
Metricool has a fantastic dashboard with easily accessible metrics to help you measure your success. You can track the number of clicks, likes and comments on each post and use this information to optimise and improve your content strategy for maximum engagement.
Optimal Time
Publishing content when your audience is online is key. If you post outside of peak times, you're missing out on potential likes and comments. With Metricool, connect your own social media accounts to the system and get an overview of your daily best time to post so that you can schedule all your future posts accordingly.
Post Across Platforms
It's simple to replicate the same material across all of your social media accounts. No need to log in and out of each, and copy and pasting is a thing of the past!
Metricool is a fantastic tool for anyone looking to increase their social media engagement and spread their content. The ability to schedule posts in advance means you can free up your time while still consistently posting content that performs well. The dashboard is full of useful metrics so you can measure the success of your social strategy and improve your campaigns.
Extra Tools
Metricool allows users to publish and track Google Ads and Facebook Ads
Create, maintain, and optimize your Google Ads and Facebook Ads campaigns. Finally, compare the results and fine-tune your ad budget.
Create personalized reports
One of the great things about this software is the ability to create reports for all of your accounts. You can personalize them with so many options depending on your needs, such as for your team or clients. Having reports personalized will make the data more useful and easier to understand.
Get Metricool for FREE!
The best part about Metricool is that they offer a lot for free. If you have one brand and one account with a good range of social media platforms, the free version will be a great start for you.
The paid plans are very reasonably priced and an investment that will pay you back time after time and once you start using this for your business.
Check out the free plan here: http://mtr.cool/URXSIU
Conclusion
If you're looking for a way to manage your social media content, it's highly recommended that you explore all of the options available. However, as discussed, one great option is Jasper and Metricool, which can help with publishing posts on multiple platforms at once or scheduling them ahead of time. All plans are affordable and allow for free trials so you can try them before buying! It also offers additional tools like Google Ads & Facebook Ads creation plus more training videos on YouTube.