Creating a WordPress blog post is easy.
Once you are logged in to the WordPress Dashboard using your username and password, simply follow the steps below:
  Add New Post
First, you will need to click on "Posts" on the left-hand side of your WordPress dashboard to add content. This brings up all posts published from this website so far. You can either choose an existing article to make edits and amendments or click "Add New" to create a post from scratch.
Add A Title
For new posts – you will be prompted to add a title. This should always be written in Title Case to keep consistent throughout your blog.
 Use Default Editor
Choose "Use Default Editor" to input simple blog information and DO NOT "Use Divi Builder".

Add Text and Images
Start writing your blog post under the title. To add an "image" or "gallery", simply click the black square with the white cross, "browse all" and choose the image option (see images below). You will then be asked to upload an image from your computer to the image library or choose an existing image. Free stock images can be used from Unsplash and Pixabay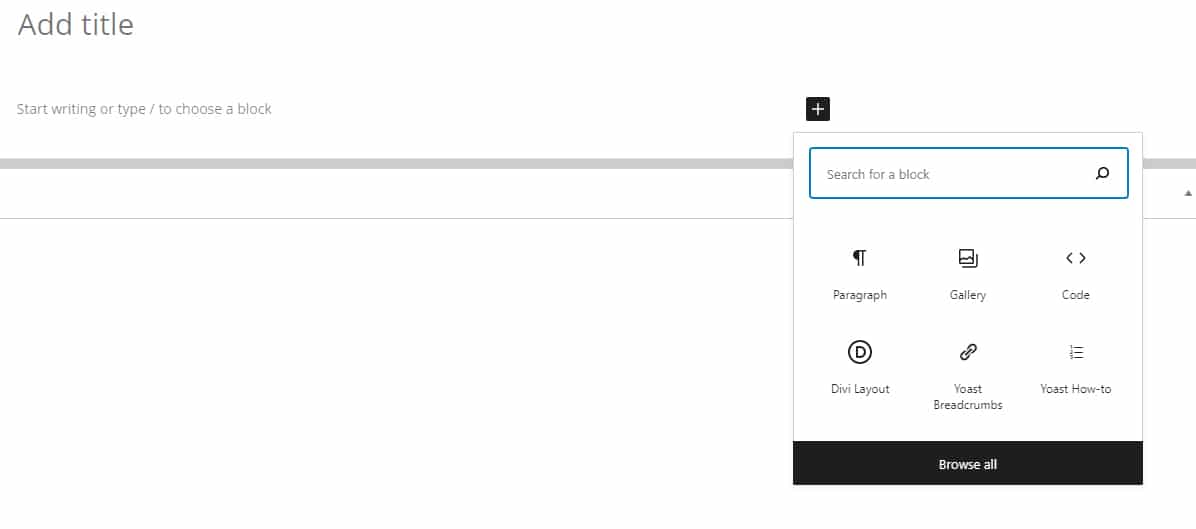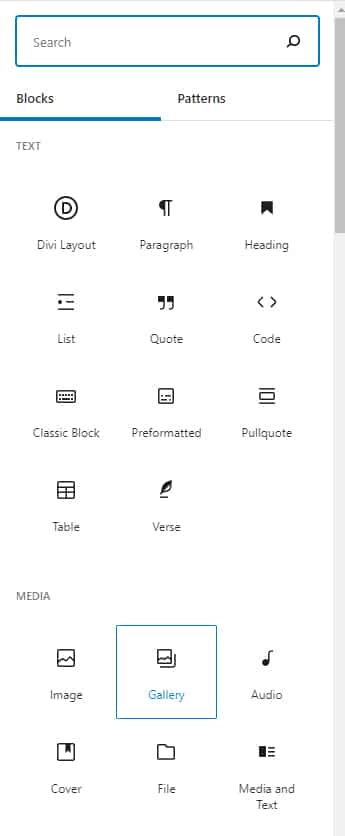 Right Hand Side Options
When you have finished inputting the content it's time to go through the options on the right-hand side before publishing. On the right choose "post" and then go through the following options …
a) Choose author
b) Select the relevant category
c) Select the "Featured Image" – this is the image that shows at the top of your blog post.
d) Check/uncheck allow comments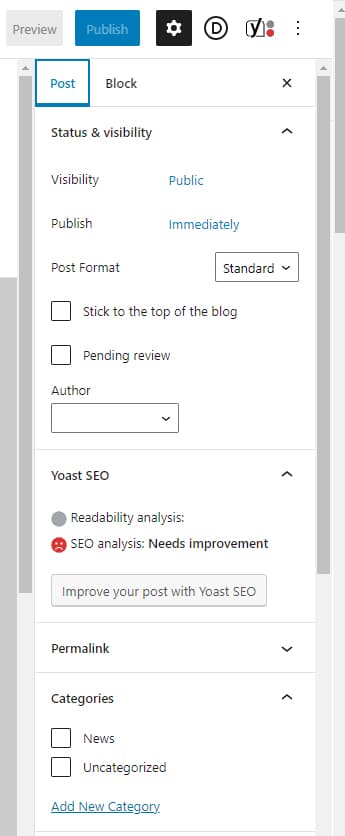 You're Done! Hit Publish
Hit "Publish" and view your post to check it's looking okay!
That's it. If you have any problems updating your blog and would like help, please contact us here at Nicada Digital and we'll be happy to help.
Written by Nicada Digital
Nicada Digital are social media experts and our team include web designers, SEO and digital marketing experts, branding and graphic design specialists. We have great ongoing relationships with our customers and manage many types of content with great success.
Extra details and Information about Blog Posts
What is a blog post
Blogs are a great way to create content and express yourself or your company news and views on the internet. Blogs are essentially web pages that contain entries with a title and date of publication as well as text shown in chronological order by date posted. They are a great way to share your thoughts and insights with others.
Blog posts are usually divided into sections or topics, each of which is a separate page on the blog that contains one post. This allows readers to browse through entries by topic as opposed to having to view all of them together in reverse chronological order like traditional blogs do.
Posts
Posts are essentially regular, yet time-specific pieces of content (such as news items) They're what you use to ensure your website is up to date fresh, relevant, and interesting. Posts are always associated with a date which is a date of publication.
A blog contains many individual entries which are organised in reverse chronological order. The post appears in categories and tags, so they can be found with greater ease by your site's visitors (and by search engines)
Create a new blog post/blog page
There are several ways to add a new post – hover over the Posts tab and click Add New. You can also click on the New tab in the top bar and click on Post. Alternatively, you can click on Add New at the top of the posts screen. Add New is the easiest way to add posts to Facebook. Clic…
Creating A Post In WordPress
There are a couple of ways to get your draft into WordPress to be published. The first, and easiest, is to write it right in WordPress. Click into the text editor box and start typing. The second way is to add your draft to the post is to copy and paste it in a word processing editor. If you don't like to use Word or Pages, then just make sure to paste your content into the "text" tab. Use the 'clear' button to remove text formats (bold, italic, strikethrough) – but you will still have to click over to the text tab to look for any spans or tags.
Writing Your Post
There is no right or wrong way to write a blog post – but there is a basic process most writers follow. Not every blog post has an outline, so don't have one every time. The first draft will not necessarily be the final version to be published, most blog posts will need to be revised at least once. Proofreading your post before going live is important for you to make sure there are no typos and mistakes.
How to Optimize Your WordPress Blog Posts Page for SEO
The Yoast plugin we install for all sites will help you optimize your blog for search engines. It will set up a sitemap, allow you to target keywords and add meta description.