Written by
The Web Design Nottingham team at Nicada Digital. Local website designers bringing stylish, responsive website designs and SEO to businesses in Nottingham. 
The History, The Attractions And Reasons To Visit This Venue
There is a host of highlights to add to your itinerary for your visit to Nottingham Castle. From reliving the adventures of Robin Hood to discovering outstanding art collections, exploring historic caves and feasting at the Terrace Café – every visit will be unique! Located in Nottingham City Centre.
Address:
Nottingham Castle Trust
Lenton Road
Nottingham
NG1 6EL
Nottingham Castle
Nottingham Castle has seen many events in its thousand years of history. It's been attacked, fought over and captured by kings. It's been around when people have wanted to change the laws. In 1068, William the Conqueror ordered it to be built in order to strengthen Norman power in central and northern England. Throughout the Norman period, Nottingham Castle was fought over and rebuilt from a wooden fort into an imposing stone fortress.
In 1194, Prince John's rebellious supporters were besieged by King Richard the Lionheart at Nottingham. The defenders of the castle surrendered before he had time to use his newly built, siege catapult. In 1330, when Queen Isabella was regent for Edward III and Roger Mortimer was her lover, they captured her and then she died as a traitor.
It was from Nottingham Castle that King Richard III left for the Battle of Bosworth in 1485. He lost his crown and his life, too. In 1642, King Charles I raised his standard at Nottingham Castle, starting the British Civil War. But he did not have support from people in Nottingham and they supported the Parliamentarians instead.
Nottingham was changed by the industrial revolution. The palace and meadows were replaced with factories and overcrowded slums. The town became a hotbed of unrest with Luddites defending their livelihoods by smashing machinery in the factories, and in 1831 people set fire to the castle because the Duke of Newcastle voted against giving people who lived outside London power to vote.
The Castle remained a burnt ruin for over 45 years until it became an art gallery in 1878 for all of Nottingham to enjoy.
The Legend Of Robin Hood
The Robin Hood legend is an enduring tale of one man's long battle with the Sheriff of Nottingham. The outlaw was a thorn in the side to those in charge, disguising himself as he went about his adventures and fooling them into thinking they had him captured before escaping time after time.
Standing up for what's right, no matter who it inconveniences or how deep their pockets are; this honourable man triumphed over tyranny again and again! He became more than just a symbol though – everyday people turn on news articles from all around us that speak truth to power like never before because we remember there will always be someone out there ready to help ordinary folk fight back against injustice even when our backs are turned.
In Nottingham, they loved Robin and his legacy has grown ever since. One of the most popular figures in folklore for centuries now, he appears as a hero in medieval ballads or Hollywood blockbusters. His adventures have spread worldwide with many 'Robin Hoods' appearing all over different cultures – (featuring on many a front cover page) – Giuseppe Garibaldi or Ahmad Khan Kharal just to name two examples among others like Queen Nanny of the Maroons (also known as 'Mammy'), Chucho el Roto from Brazil; Lampião who terrorized Northeast Brazilian plantations between 1869-1908 and Lakshmi Bai who was an Indian rebel leader during British rule around 1798-1817.
Now you can live the life of a medieval outlaw with Robin and his merry men! Get lost in the new digital interactive games like competing in the Golden Arrow competition or fighting Little John on top of a bridge. Take up challenges to win prizes such as your very own quarterstaff or dress  as one of Robin's outlaw companions for photo opportunities all around Sherwood Forest.
The History Of The Castle
Robin Hood has been a popular folklore character for centuries, but what really happened at Nottingham's Castle? Read more on our designated page that covers the complete history of the castle to the present day… History Of Nottingham Castle
The Rebellion Gallery
The Rebellion Gallery is a place for you to step back in time and experience three of Nottingham's most rebellious moments. Starting with the rebellion against King John, which led to the signing of Magna Carta. Then explore how people rebelled again when Henry VIII tried to take away their religion during his reign over England. Finally, see what happens when Parliament decides that they don't want Charles I on the throne any longer because he was just too taxing!
A visit here will give you an inside look into Nottinghamshire history as it explores its rebel spirit by telling these stories from centuries ago up until now – come learn about one little corner where there are still some rebels around today after all this time…
Explore
The castle's history can be traced back to the 12th century and has survived for many years. Visitors of Castle Rock will find impressive original features that have been preserved with time, such as a circular tower built in 1314. The museum also provides an interactive experience by showcasing historically accurate artists' impressions on graphic panels including depictions at the height of power when it was home to Scottish royalty like King Alexander III who ruled from 1249-1286 AD.
The site of Nottingham Castle is a living history goldmine. Walk through its gates and you'll be transported back in time into the castles' 1000-year old walls, which tell England's story from invasion to loss at war – all without even opening your mouth! From William's conquest on down to Elizabeth I., this castle venue has seen it all. Let the knowledgeable tour guides take you past royal chambers where kings once slept, prisons that housed queens like Eleanor, and battlements overlooking the city below with cannons aimed for any attack – in fact don't forget about those centurions ready for guard duty just outside the door too!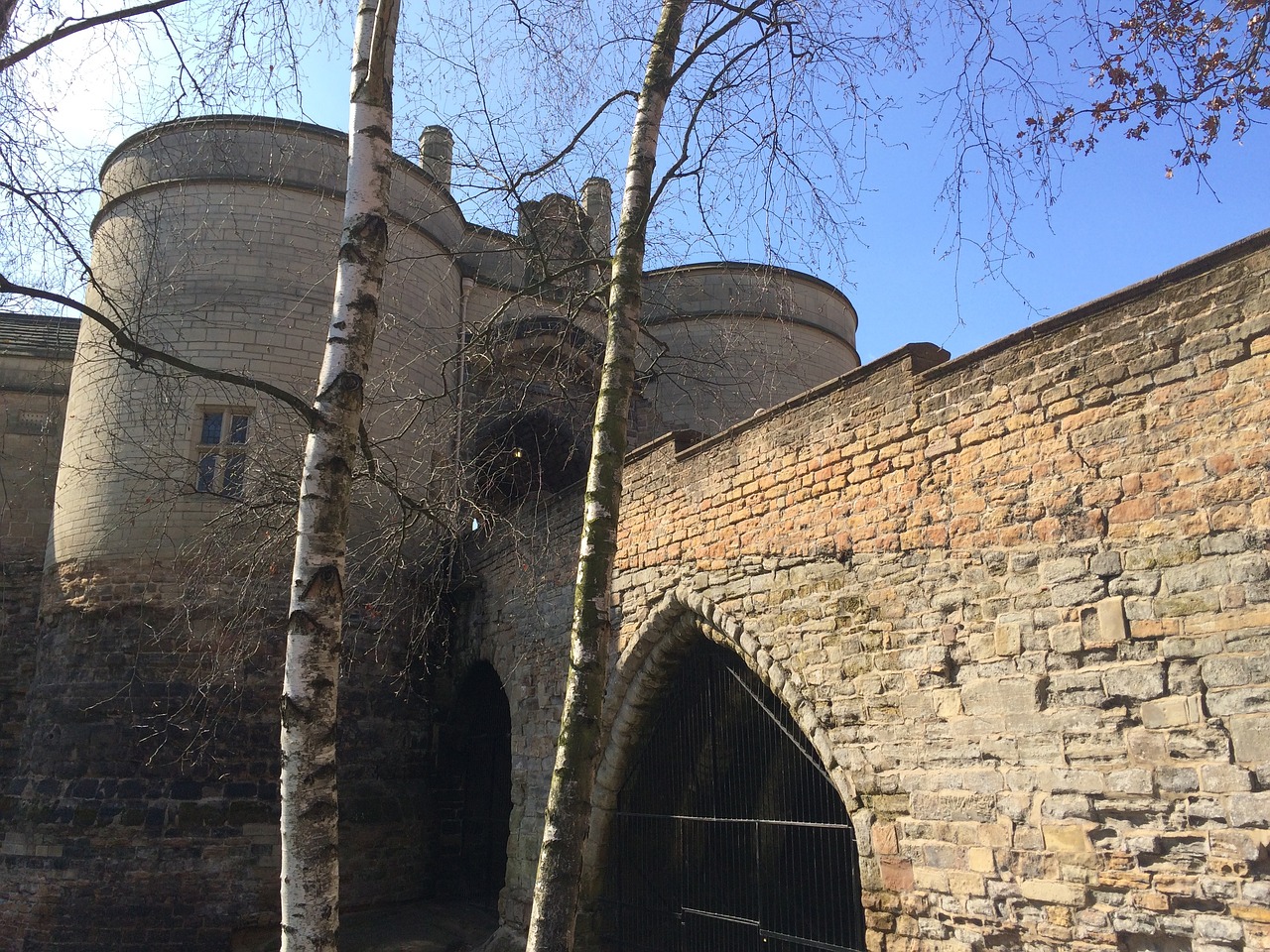 Land Train
Travel back in time on the Land Train and experience 1000 years of history as you journey from Brew House Yard to the Ducal Palace Colonnade. Aboard, enjoy a ride past Ye Olde Trip To Jerusalem one of England's oldest pubs before travelling through The Castle gates all way up to the Ducal Palace entrance.
The Nottingham Castle Land Train is more than just a ride, it's your ticket to an eco-friendly day at the castle. Use this green machine and explore everyone of the sites without worrying about parking or money for your fuel! The train includes accessible facilities for wheelchair users but pushchairs must be folded up in order to fit onboard.
Grounds
The grounds are the City's green lungs. There is so much to explore in the beautiful, expansive space! Kids will delight over Hood's Hideout; parents can walk around Lower Bailey or take a family-learning trail for some fun educational games. Do you need your morning coffee fix? Try one of the cafés and enjoy it outside on their patio while taking in everything that there is to offer at The Grounds.
Hood's Hideout Adventure Play is set within the dry moat of Nottingham's Castle. It promises hours of fun and discovery for children, all year round! Journey up 'The King's Road towards the castle from secret encampment wary of those in tree walkways above. Will you storm the castle or repel outlaw with Sheriff? Children love to swing slide climb and jump through history on amazing timber play structures.
Nottingham Castle Museum And Art Gallery
Museum Of The Mercian Regiment
The Museum of the Mercian Regiment is full of 300 years worth of history and bravery, leadership, duty & sacrifice. This gallery tells stories that start in 1741 with the formation 45th (Nottinghamshire) Regiment Foot to The Mercian regiment today. Included are displays beginning with The Sherwood Foresters and Worcestershire and Sherwood Foresters regiments as well so there's something for everyone!
The Mercian Regiment has served with distinction throughout its history, spanning from Badajoz to Basra. Learn more about this regiment and the individuals who serve in it through a rich collection of stories that spans over 250 years – learn what these men have gone through as they fought for our freedoms.
Temporary Exhibitions
Experience state-of-the-art exhibitions in Nottingham's Ducal Palace, steeped in history. The Terrace Gallery hosts world class touring arts exhibits every few months so there is always something new to explore, share and enjoy! We hope you get to visit soon!
Creative Galleries
Discover the awe-inspiring collections of fine art and decorative arts on display in this historical castle. From medieval alabaster to contemporary photography, Nottingham lace to stunning ceramics and salt-glazed pottery to amazing oil painting, there's a treasure for every art lover at Creative Galleries!
Explore Nottingham's alabaster and salt-glaze heritage! Immerse yourself in the Early Craft Gallery to explore how locally made pottery is an international success. Discover medieval sculptures, design a digital masterpiece on interactive screens in The Media Lounge, or learn about this dramatic process of making stoneware pots through hands-on demonstrations.
Explore Nottingham's Alabaster & Salt Glaze Heritage. Discover what it takes to make these functional pieces at the Hands On Demonstrations where you will be able to watch craftspeople molding clay while hand painting intricate designs onto them with delicate brush strokes using special glazes that have been developed over hundreds of years by skilled craftsmen.
Brewhouse Yard
The Brewhouse Yard is an iconic building in Nottingham with a history dating back hundreds of years and a certain addition to your itinerary. Lucy Webster, former resident and laceworker, welcomes visitors to her former home where they can explore the rich symbolism within the brewery's architecture as well as hear its moving story first hand from one who lived it.
Mentioning that many communities were affected by this complex weave of people over time helps create more engaging dialogue between narrators and audiences alike while making listeners feel closer to those involved in telling this captivating story!
Castle Shop
Situated at the main entrance in the Visitor Centre, The Nottingham Castle Shop is a one-stop shop for any gift ideas. Sourced from artisan makers and manufacturers around the world, these carefully selected products will reflect seasons and changing exhibitions with quality souvenirs being available to match your every need. Wherever possible they try to support local producers and artists by stocking their goods as well as their own branded items!
Pocket money is the perfect way to avoid an awkward conversation with your parents about how much they should spend on you.
They have a range of pocket-money items, like toys art materials, and children's clothing that will make it easy for them! They also offer rain ponchos and umbrellas in case guests need some shelter from summer showers or sudden downpours.
Special Occasions At The Castle Site
Nottingham Castle is a quintessential Victorian wonderland, and the perfect place for your special day to feel timeless. From their vast selection of rooms in different styles to suit your every need, they have everything you could want from an event venue-from weddings with rustic charm or lavish affairs fit for royalty. With backdrops ranging from lush green field views which are perfect if you're after something outdoorsy – email for further details;
Wedding Photography
Private Parties
Formal Dinners
Medieval Banquets
Christenings
Children's Birthday Parties
Champagne and Canape Evenings
Breakfast Meetings
Summer and Christmas Parties
Product Launches
Experiences And Tours
From the castle's galleries to the caves below, there's something to suit everyone; bookable tours and adventures including The Robin Hood Adventures.
Any tour or one of the experiences can be booked in advance as part of your ticket (use the official website page) or at any time from the Visitor Centre, which is just a short walk away. Tours are available throughout the day but don't miss out – use your phone to check availability and information online before you arrive in case of any updates or as previously mentioned, message the main website for more details.
Prices / Tickets
Tickets are not yet on sale for Nottingham Castle's reopening in Spring 2021. Keep checking the website / websites, or Twitter information/categories, or email for details.
Nottingham Castle Opening Times
Nottingham Castle will be closed for redevelopment until 20 June 2021
Dates: 1 July 2018 – 20 June 2021
Nottingham Castle open summer 2021
Dates: 21 June 2021 – 21 June 2026, Monday – Sunday Open
Bank Holiday Open
* Seasonal period:
November – March 10:00 – 16:00
April & May 10:00 – 17:00
June – August 10:00 – 18:00
September & October 10:00 – 17:00
Last admission one hour before stated closing time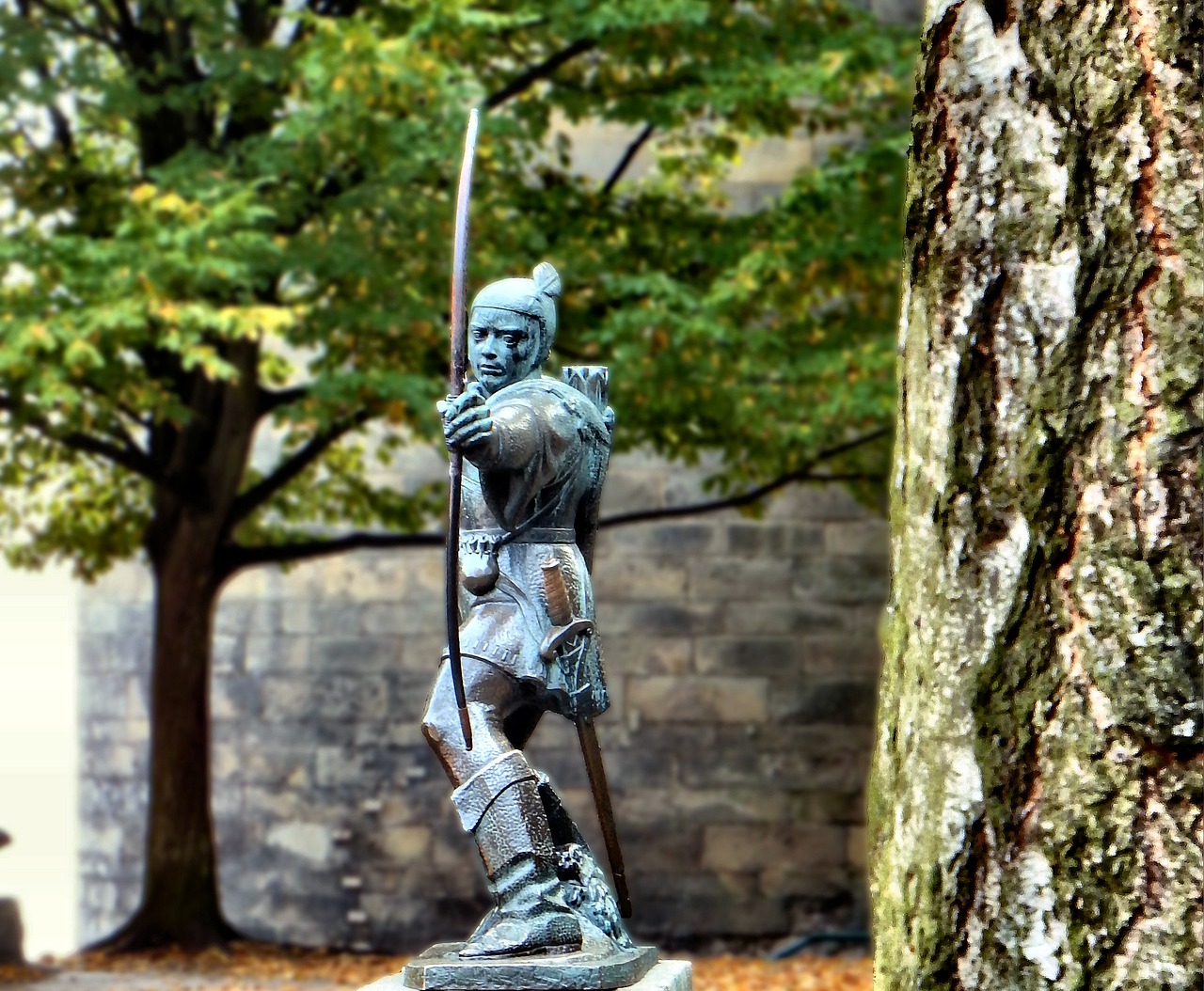 Other Things To See And Do Nearby
Robin Hood Statue
Cast from bronze and weighing half a ton, this Robin Hood statue stands proudly on a piece of marble. Little John, Friar Tuck, Alan A Dale and Will Scarlett are around it. There are also explanations about the story of Robin and his Merry Men.
In a typical outlaw style, he stands outside of the Nottingham Castle site, aiming at the gatehouse and the establishment within. Join celebrities and millions of visitors who have had their photo taken with this famous outlaw's statue in Nottingham.
On July 24, 1952, the statue of Robin was unveiled by the Duchess of Portland in front of Nottingham Castle on Castle Road.
It was a sunny day when 500 schoolchildren sat on the ground in front of a statue. They watched as the statue and other things were revealed to the public. The children were inside a special VIP area and they listened to music from a band. This was because of Philip E F Clay who donated it. He wanted people visiting Nottingham to have something interesting to see related to Robin Hood.
Albert Ball Statue
In the past, the city had many heroes. One of them was a Mr A Ball. Albert was a pilot in WWI and he flew for his country when it became involved in war with Germany in 1914. He had a natural ability to fly planes, so he bought lessons from his own money so that he could join the Royal Flying Corps who flew planes as well. Albert's plane had 44 victories against Germany and there are probably more that weren't recorded too!
Standard Hill (Derry Mount)
Marked on history's map, this is where the Royal Standard was raised in 1642. It marks when the Civil War started. Today there is a plaque to remember this event.
Things to discover …
At Castle Nottingham in the East Midlands you will find a new visitor centre, the municipal art gallery / first municipal art gallery, Historical information about Prince John. Other attractions include the caves beneath the castle, wooden structure, William Eland and a lovely gift shop for all your souvenirs.