The Cheshire web design agency for brands with big ideas
Nicada Digital is a web development and digital marketing agency with over 20 years of marketing experience. Based in Cheshire in the UK, our web design team are experts in creating websites that stand out for all the right reasons.
We will work with you to deliver a business or eCommerce website that drives quality leads and sales.

A Track Record Of Excellence In Web Design
Our web development team know how to create website designs that look wonderful, and deliver results. We've been helping businesses to stand out in Cheshire for over 20 years.
In an increasingly digital world, it's vital that your online presence truly reflects your business- from your website to your social media. And for eCommerce websites, it is essential that the website design is focussed on converting visitors to your site into loyal customers.
Website design is about more than how a website looks
Ultimately, website design is all about delivering success for your business.
It's about:

Helping your branding stand out

Getting found by search engines, and increasing traffic

Meeting your customers' needs

Establishing you and your business as leading experts in your industry

Delivering a user friendly experience that your audience will love

Leads, and sales that help you grow
Simply fill out the form or call us on
0161 486 6048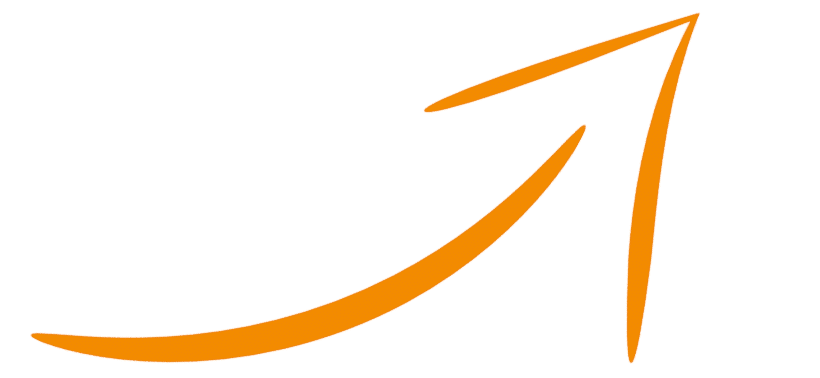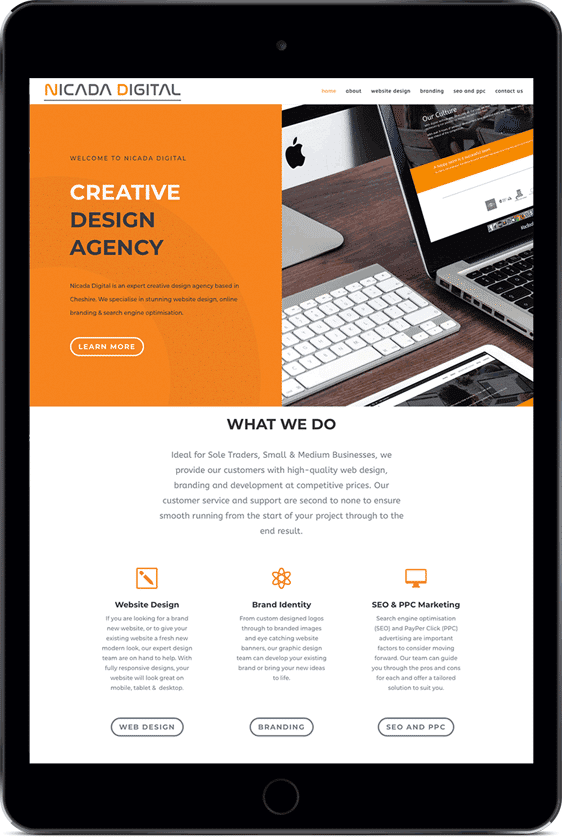 Helping brands to stand out
We work with local, Cheshire-based companies who want a website that really shows off what they are all about.
We follow a creative process that has been carefully developed to keep you involved and updated on every aspect of the development process. We're all about transparency and communication!
Key features of our web design services:

Bespoke websites by top, Cheshire-based web developers

Maintenance and repairs of existing websites

Mobile-friendly, responsive web design

Websites perfect for business start-ups, small and medium businesses

Online order & booking systems

e Commerce solutions

User friendly WordPress CMS

Excellent customer service

100% satisfaction guarantee
The Nicada approach to delivering your website project
1- Strategy
We start out by talking to you about what it is you want to achieve. That first meeting will give everyone a chance to get to know each other.
We'll build a picture of where you are now, and where you want to get to. And, most importantly, we'll work with you to figure out how your new website can deliver that for you.
By identifying your ideal target clients, we can ensure that their journey through your website is exactly what they are looking for.
2- Content
Web design isn't just about the code and branding. The right content is vital! Does your existing content give the perfect impression? Does it tell the right story, in the right way? Does it clearly tell your clients who you are as a brand?
If not, don't worry. Our amazing creatives can help with that! We can offer ideas and advice, or you can leave the content development up to us.
3- The Build
Now it's time to start work designing the perfect solution for you. With the strategy we created in stage one firmly in mind, we'll start to create a website that has your customers at its heart.
We'll take into account important elements like user interfaces, and the user experience on your website. And we'll ensure that menu layouts are intuitive and optimised for conversion.
4- Amendments
It's important that the design of your website meets your expectations. So, once you've given us feedback on the first draft of your website design, we'll ask you to tell us what we need to do to make it perfect.
This approach ensures that each of your requirements are met perfectly, and it's why we are quickly gaining a reputation as the best web design agency in Cheshire.
5- Time to go live
Now it's time for your website visitors to get their first look at your brand new website. This is the best part. It's so exciting to see the realisation of your vision, and to show it off to all those potential clients!
We'll test, check, and test again to ensure everything goes smoothly.
6- After care
Every website design project we undertake comes with 30 days of free support after the site goes live. This gives us a chance to help you with any initial niggles, or issues that might arise as traffic to your website starts to increase.
We'll also ensure that you're comfortable with using the CMS (Content Management System).
If you'd like to have a chat about ongoing support options, we'll be happy to help.
Ongoing support and marketing solutions
If you are looking for a digital marketing agency in Cheshire who will work with you to reach your marketing goals, you've come to the right place.
We don't just design fantastic websites, we also offer careful strategic marketing solutions to help you reach your goals.
Domain registration and set up
As part of our website design service, we will register and set up your chosen domain. And we'll also include an SSL certificate to make your site secure.
Having your domain properly set up with an SSL certificate is a vital part of your SEO strategy.
Website hosting service
Make the whole process stress free by having us oversee your website hosting for a small annual fee. We work with a trusted third-party company to make your life easier.
Branding and logo graphic design
In addition to website design, our graphic design team can create dynamic, eye-catching, on brand imagery that can be used across all your marketing, including social media.
Read more about our additional design services and see some examples of our work here.
SEO and PPC Campaigns- The solution to helping your customers to find you
Search engine optimisation is about helping people to find your website in the organic listings. It depends heavily on meeting Google's requirements (which change regularly). We can help ensure you've got everything in order.
We also offer social media advertising and pay per click marketing campaigns.
Read more about our SEO and PPC services.
Check out some of our design projects
People are saying nice things about us…
We're really proud of our reputation for the amazing level of customer  service we offer to our clients.
"I always go to Adam and his team for all my web design needs, they make so many helpful suggestions along the way to optimise my design brief, making the entire process painless. They're very intuitive about web design, what looks good on multiple platforms and are technically excellent. Adam is especially adept at translating a creative brief into digital content. They are also very reasonable in terms of price. I wouldn't hesitate to recommend Nicada Digital to anyone looking for savvy, superior web designers."
"I choose Nicada to build my e-commerce website and to run some FB campaigns and have not been disappointed, the website looks great and the response from the campaign has been very positive. The assistance from Nick and the team is second to none, always happy to help….could not recommend enough."

"I deliberated with a few companies of who to build my new e-commerce website and have to say I made a great decision in choosing Nicada. I dealt with Adam who was so helpful in all aspects of the build, giving great advice whilst providing a really professional service. The website looks great and I have to say the price was very reasonable … Thank You so much !!! "
__________
Aparna Ilangovan
New Website Project
Imagidex Ltd
__________
Karl Latham
New Website Design
PT Miles Jewellers
__________
Tim Springer
New Website Design
The Laughing Gull Book and Gifts



If you are looking for a web design company in Cheshire, or you would like ongoing marketing support for your business, get in touch with our friendly expert team.
0161 486 6048