Introduction
Stockport, in the UK, is a town that has been debated for many years. Some people believe it belongs to Cheshire while others think it should be in Greater Manchester. In which county is Stockport? This blog post will explore this question and answer it once and for all!
Here in the Nicada Digital office, while working away on various web design and SEO projects, we started a conversation by asking a simple question about the county that Stockport is allocated to. Little did we know that the topic has been debated for some time and has been unclear due to changes over the years.
So after a bit of research to settle the argument, we thought we'd share our findings!

Written by
The Web Design Stockport team at Nicada Digital. Local website designers bringing stylish, responsive website designs and SEO to businesses in Stockport.
Is Stockport part of Greater Manchester or Cheshire?
Stockport, North West
Stockport is actually a large town in Greater Manchester – a metropolitan county in the North West of the UK, just 7 miles outside of Manchester city centre.
Most of Stockport is within the confines of the historic county of Cheshire, however, the region which is north of the river Mersey and west of the River Tam actually finds itself in the historic county of Lancashire.
When did Stockport leave Cheshire?
Greater Manchester was formed on 1 April 1974, as a result of the Local Government Act 1972, and is a combination of parts of Lancashire, Cheshire, The West Riding of Yorkshire and eight independent county boroughs.
Before this change by the local government, Stockport was part of the county of Cheshire.
Is Stockport in Cheshire East or West?
Technically it's neither. Stockport shares its border with Cheshire East but is part of the metropolitan county of Greater Manchester.
Greater Manchester Map Showing Stockport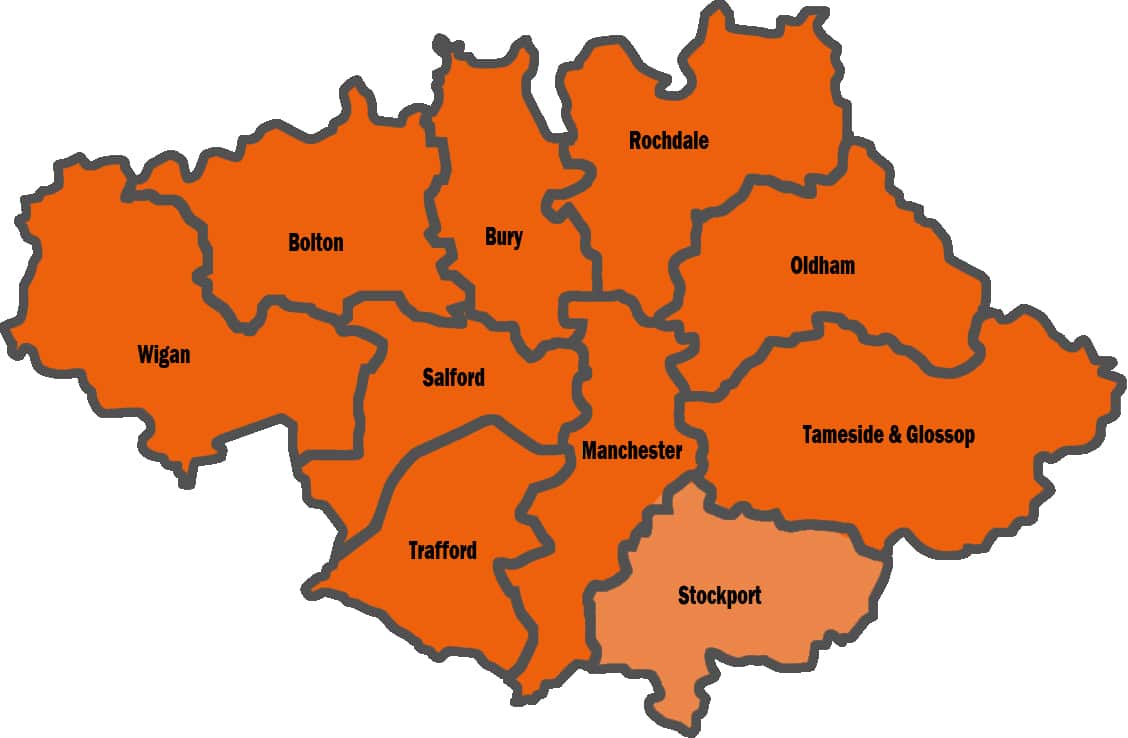 What do the locals think?
Although in Greater Manchester, many of the local residents like to think of Stockport as being part of Cheshire, as it once was. Many locals still claim that Stockport is a part of Cheshire, technically this is not true as it has been included within the metropolitan since 1974.
Stockport metropolitan borough council
Stockport Metropolitan Borough Council is the local authority for the Metropolitan Borough of Stockport, which is one of the metropolitan boroughs that make up Greater Manchester.
Stockport Metropolitan Borough Council has responsibility for local government and provides services such as education, social care, refuse collection and housing to residents within its area.
The council organises elections every other year using the first past the post system. Stockport metropolitan borough council also has responsibility for local planning, and its cabinet is made up of fifteen members.
Stockport metropolitan borough council history
Stockport history
Stockport Metropolitan Borough Council was formed on the 12th April 1974 as a successor to Stockport Corporation and consisted of 76 councillors.
It replaced the four district councils in Stockport, which were at that time Alderley Edge Urban District Council; Cheadle UDC; Denton UDCC; and Reddish UDCC.
Initially, an ancient market town, Stockport's history has seen it grow from a small settlement to become a major player on the national stage as one of England's biggest manufacturing towns.
The area was well known for its production of cotton and silk weaving during the Industrial Revolution back in the late 1700s – at this time Stockport expanded rapidly.
Stockport was once also a major centre for the production of chemicals and textiles, with its textile factory work being worth £130million in 1950.
It is believed that it is this industrial heritage which has made Stockport so popular with artists such as Mancunian painter L S Lowry who lived there from 1930 to 1953.
Stockport bridge, North West UK
Stockport is now home to Stockport Bridge, which was built in 2009 and crosses over the Manchester Ship Canal. This bridge can connect Liverpool with Manchester's ring road as well as having a pedestrian walkway for those who want to cross it on foot. The Bridge has been made from pre-cast concrete piles that have been driven into the ground on both sides of the Manchester Ship Canal.
Stockport castle
Stockport Castle was a Norman castle that was first documented in 1173. The original castle grounds were surrounded by walls and a moat. The last remains of the castle were demolished in 1775.
River Mersey
Stockport is a small town, and as such it doesn't have any other large rivers than the River Mersey which flows through West Lancashire.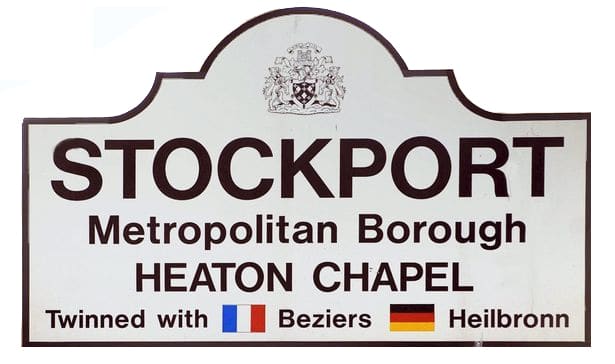 Local and neighbouring towns
Stockport is neighboured by Manchester, Denton and Reddish.
Here is a list of the cities towns and villages in the borough of Stockport:
Bramhall
Bredbury
Cheadle
Cheadle Hulme
Compstall
Davenport Park
Gatley
Hazel Grove
Heald Green
Heaton Chapel
Heaton Mersey
High Lane
Ludworth
Marple
Marple Bridge
Mellor
Reddish
Romiley
Stockport
Strines
Woodford
Woodley
Population
The population of Stockport in the UK has increased significantly since 1801 from a mere 500 people to over 290 thousand today. It has become one of England's most populous towns with a nearly constant increase in its number of inhabitants.
Affiliate Disclosure
In compliance with the FTC guidelines, please assume the following about all links, posts, photos and other material on this website: Any/all of the links on this website are affiliate links of which Nicada Digital receives a small commission from sales of certain items, but the price is the same for you. Nicada Digital is a participant in the Amazon Services LLC Associates Program, an affiliate advertising program designed to provide a means for sites to earn advertising fees by advertising and linking to Amazon.com & Amazon.co.uk. Pages on this site may include links to Amazon and its affiliate sites on which the owner of this website will make a referral commission.